Website Design & Development
Pofessional web design business offering a broad range of services ranging from web site design, site re-design, formatting / optimization of photographic images, search engine optimization, hosting, email facilities, domain name registration, copy writing and a stock photography library.
Due to many years of web design experience we can have your web site up and running very fast without compromising the quality of the work we produce. Simply send us the details of the site you would like created. Tell us how many pages, if you want a web form and if any special functionality is required. Alternatively, just give us a call to discuss your ideas.
Once we have created a web page design/layout for you, we will put it live on our development server for your approval before continuing work on your project. Depending on your project specifications for the web site, it could be up and running within as little as 24/7 hours. this is it…
CMS – Content Management System
CMS allows people with no programming experience to update their web pages themselves. The system uses a database to hold the content of the site. All you have to do is login, edit the text in a simple online editing page and click the 'save to database' button once you're finished.
We have a text update version and a more advanced CMS system which allows you to change images as well as your text. This system has a 'user friendly' image upload system to enable you to send your images to the web server. The CMS systems include a Login page, Administration page and the Dynamic PHP pages you require.
Ecommerce
XCLUSIVEDGE's Ecommerce features, a powerful combination of custom designs, site architecture and customer experience enhancing technologies that will convert your web traffic into paying customers.
We focus on the total experience rather than just the mechanics of the web site. The customer's experience with the service is what eventually makes or breaks your web business. We have the expertise and experience to develop a custom Ecommerce site that will enhance your company's bottom line.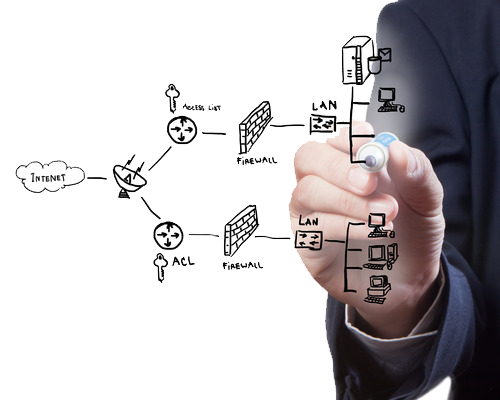 Graphic Design / Creative Input
Your input is entirely dependent on how much time you choose to spend on the project. We can manage every step of the creative process on your behalf. The services of graphic artists, copy writers and professional photographers are also available to enhance your business products and services as well.
We create pages that are effective and efficient as well as attractive, strengthening your brand optimising your online business performance.
We custom design our illustrations and graphics to meet each client's individual requirements. The extra time and work taken ensure your pages look crisp, clean and professional. We also program the pages to make the information more visible to the Search Engine spiders that continuously crawl the net.
Your Company Brochure converted into a site in days. Includes navigation system, brochure image scanning (if digital images not available), formatting and optimisation of all digital photography and illustration graphics.
What To Expect!
No monthly payments

Clean and Modern Design

Graphical Interface (No code knowledge required)

Great SEO Framework on every page

50% service discount for 30 days.

E-Commerce and Payments

Personalized Video Training

Domain Management

Continuous SEO monitoring and optimization

Superb Web Hosting with FTP access

Database and file security
You will need to host your own website with this package. Third party hosting can vary in price and performance, but if we had to recommend a host for you, we'd recommend choosing, SITEGROUND or MEDIATEMPLE if you want a shared host at low cost (and relatively low performance). Or, GoDaddy's Managed WordPress Hosting for a little better performance.
You can also choose to have Exclusive Edge Media set you up with your very own VPS like ours!